Heya adventurers! This is going to be an action-packed week! A new mysterious new land has revealed itself to the El Gang and it is up to our heroes discover what fate awaits them in a new place! Get ready players, Pruinaum is here! Meet new characters, take in the new environment, and grow even stronger! We've got TONS of events and even more rewards for you to haul in so you can prepare for this brand-new adventure! We're also introducing a new system to make your already EPIC weapons, stronger! Watch out for the Imprint System! And as always, don't forget to check out the Item Mall for all the goodies we have in-store for you this week!
Pruinaum is Coming Event
Feel you're not prepared to take on the land and the people of Pruinaum? Worry not! We're here to help! Don't miss these events!
Log in for 10 and 20 minutes to get the new [Cobo] Start of a New Adventure (1 Day) and 20 [Cobo] Adventurer Support Potion respectively!
But that's not all! When you login ONCE on the weekends, prepare to get 1 [Cobo] Pruinaum All-in-One Support Package! Which includes items like Accessory sets, a title, a pet, and more!
Hold on to your hats because for the duration of the event, you'll get to enjoy x2 Drop Rate in the Varnimyr Raid!
Oh, and check out the opening of the Aurora Shop where you can exchange your Aurora Shop Points (you can get them by clearing dungeons in your level range) for awesome items!
Pruinaum Dungeon Events
Want to do more? We have more awesome events with even more awesome rewards for everyone!
Get a small taste of Pruinaum when you log in ONCE for 20 minutes on specific dates to get a [Cobo] Pruinaum Trial Cube! It contains 1 [Cobo] Danger Close (7 Days) Title, 1 Mark of Alliance, 1 [Cobo] King of Yeti (7 Days) Title, and 1 Glacial Aura!
Get Imprint Stones by clearing the Glacial Land and the Old Village Site! You can add them to your weapons so they're much stronger!
And just for this weekend, get 1 [Cobo] 3rd Class Advance Ticket once on the 15th and 1 [Cobo] Class Change Select Cube once on the 16th!
But it doesn't stop there! Also on the 16th, don't forget to do the chain quest to get [Cobo] Elrianode Color Change Tickets as well as, 1 [Cobo] Physical/Magical Mystic Stone Change Ticket!
Item Mall Goodies
It's definitely home, sweet home when you come back after a busy day and go home to views of the cosmos! The low-light ambience helps with the relaxation too! Get the DIY El House (Starlight) when it comes out!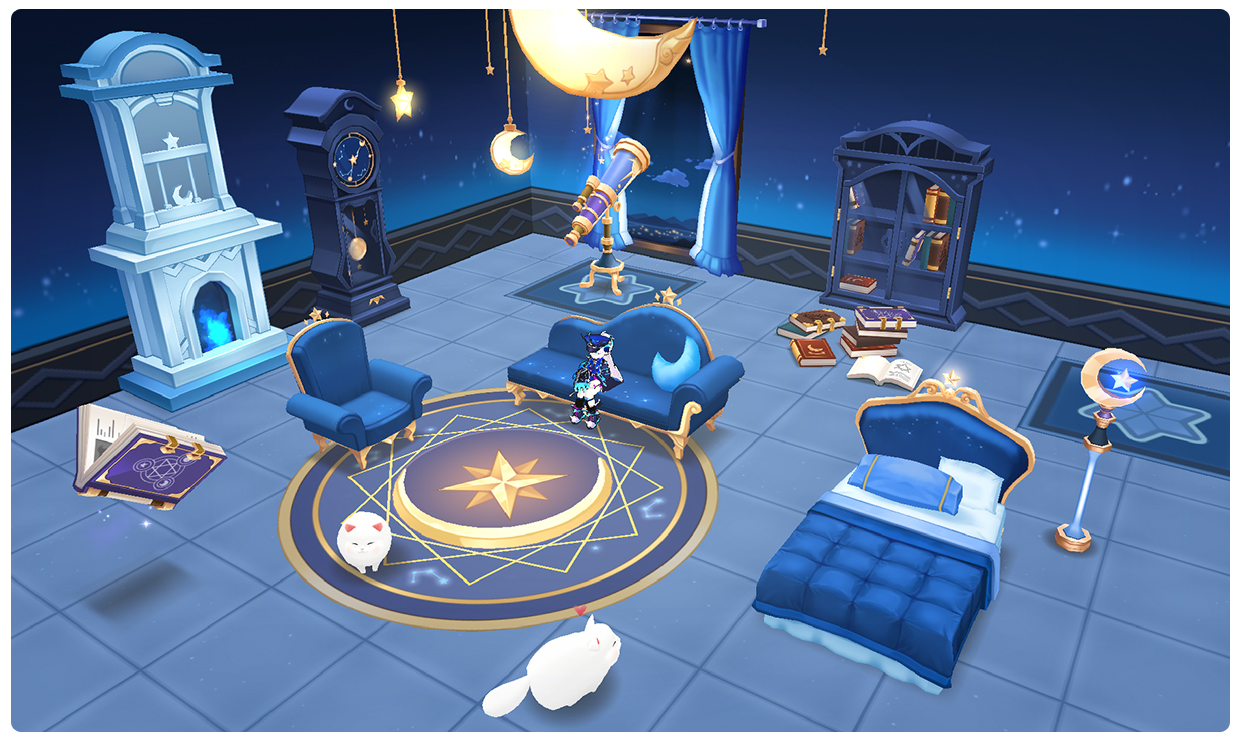 That's all for now, folks~
See y'all in-game!